01/19/10 190 W, 1 I - + 17 - 3 What You Didn't See
Notes about night photography. First, everything is blurry. But a very still camera and lotsa light helps that. But even when there's good light, the people are usually a blur. Everyone's moving on a fireground, right? Exceptions include the command post, crews awaiting assignments, and so on. That's why there are always a couple good shots of a chief. 'Cause they're standing still. No jokes, please.
On Glenwood Avenue last night, we, meaning me, snapped some 300 photos. Maybe ten percent were usable. Most of those bombed due to blur. And not artsy blur, but bad blur. Some were simply too dark. Some were poorly composed. That is, they look lousy.
How to get better? Camera upgrading could help, with newer camera bodies with higher sensitivities to low light. Adding a flash is another idea, though all that reflective tape starts showing up.
Maybe Mikey needs his own lighting? Some head or helmet-mounted solution, a la Bill Murray in Caddyshack? Or am I thinking of Dan Aykroyd in that lesser-known but equally funny early 1980s comedy Neighbors? Freeze gopher!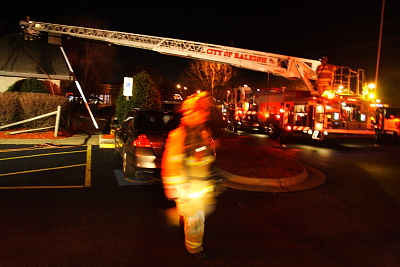 ---
underexposing by a massive amount (-3, which must be shot in raw) helps gain speed, but must pre-focus and focus lock (since the camera can't focus with such a small amount of light), and using an f/1.8 or f/1.4 lens is essential – shooting with flash at -2 is another option, again with underexposure to gain more speed
cornerhydrant - 01/20/10 - 18:08