01/20/10 340 W, 5 I - + 9 - 8 Atlantic Beach Hotel Fire, 1955
On the morning of March 31, 1955, about 6:00 a.m., a fire started on the Atlantic Beach boardwalk. Probably in a hamburger stand, where workers had a laid a new floor the night before. Flames spread to an adjacent bathhouse, through two concession stands, and then to the Ocean King Hotel.
The three-story structure was a filled with guests. This was a year-round establishment. Bellhop James Jones discovered the fire, and promptly called the fire department. That is, the Morehead City Fire Department. The beach town didn't have their own. Mr. Jones then helped some 35 guests to safety, as people dressed and gathered their belongings. Everyone exited orderly and safely as the wind-fed flames spread to the second story.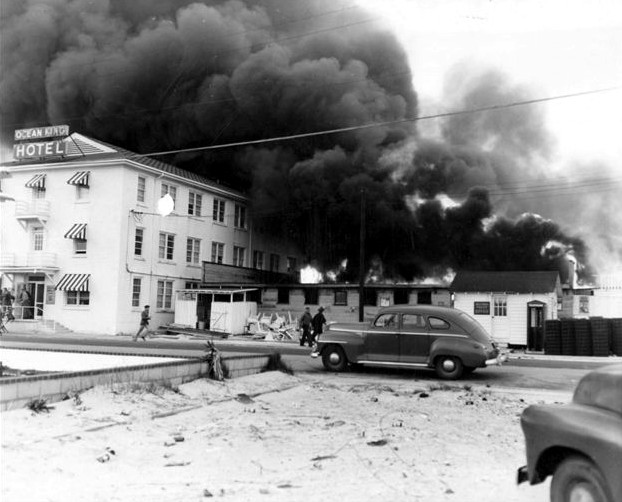 Five towns responded with fire equipment, including Morehead City, Beaufort, Newport, and New Bern. The latter was located 40 miles away! The Coast Guard station at Fort Macon, just down the road, sent their trucks. So did the fire department at Cherry Point Marine Air Station, some 18 miles away. The Havelock Fire Department hadn't been organized yet.
With a light northwest breeze fanning the flames, the entire eastern end of the island-- with 100 summer cottages-- was threatened. Atlantic Beach also lacked fire hydrants, so water was pumped from both Bogue Sound and the ocean. The former was pumped about a quarter mile from the scene. The latter was handled by the two Coast Guard units.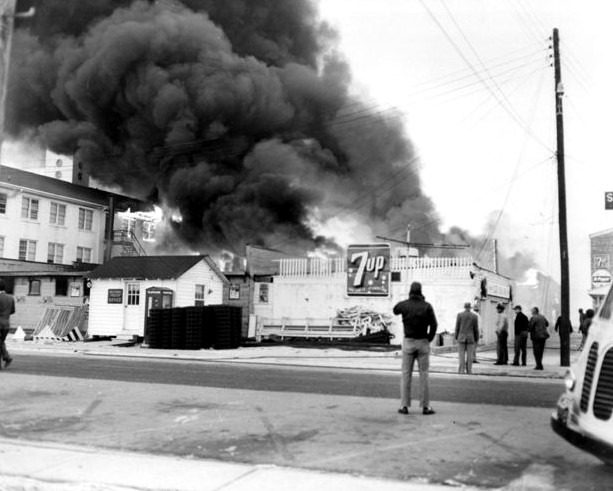 The fire finally burned itself out about 9:30 a.m. Three walls were left standing. Several cottages nearby sustained heat damage. Another small structure, the police station, was destroyed. Sections of the board, which was new, also sustained heavy damage.
The hotel was a total loss. But it would be rebuilt, said the Atlantic Beach Mayor. As it happens, the Ocean King was undergoing renovations already. The work was just about completely. The repairs required due to damage sustained in last fall's hurricane season.
Sources: The Spartanburg Herald, May 31, 1955; Hose & Nozzle, May 1955. See more photos courtesy of Jesse Chaplain.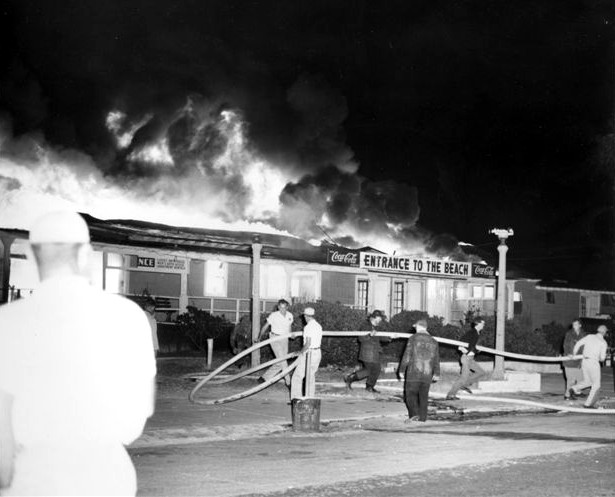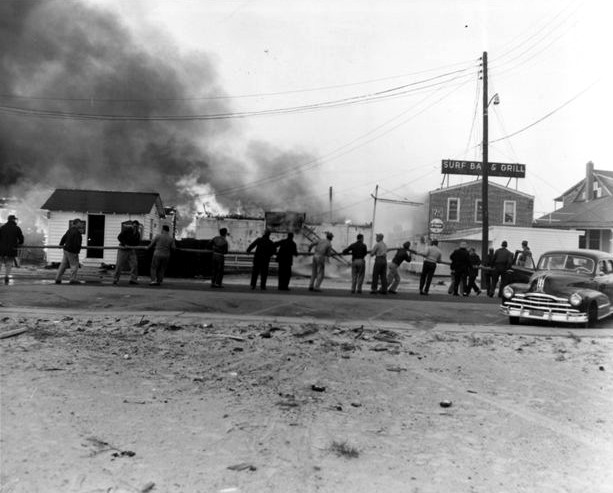 ---