02/19/10 129 W, 2 I - + 11 - 5 Raleigh Fire Department Reorganizes, 1971
In the beginning there was a Fire Chief, Assistant Chief, and two companies of firefighters. That was 1912. Two platoons were created in 1924. A second Assistant Chief was added about that time. Support staff slowly appeared. Secretaries. Telephone operators. Mechanics. Fire alarm system technicians. Inspectors were added after the creation of the Fire Prevention Bureau in 1949. And they kept building stations, and kept adding firefighters. By 1971, the organizational structure was ready for reevaluation. The North Carolina League of Municipalities was contacted, the fire department was surveyed, and a report returned. It recommend a reorganization, which shifted Assistant Chiefs to day duty, added District Chiefs, and resulted in other changes.
For your Friday enjoyment, read the story that reorganization
.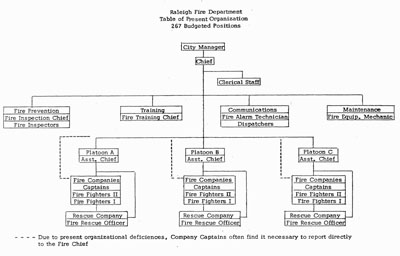 ---
Interesting to see this….pretty cool.
Silver - 02/19/10 - 12:10