03/06/10 271 W, 1 I - + 5 - 4 Yesterday's Major Fire / Arcadian Court
ThreeTwo alarms at 4903 Arcadian Court. Engine 19 arriving with heavy fire showing from the second story and roof in the rear of a two-story, wood-frame apartment building with 10,356 square-feet. Built 1985. Declared major working fire on arrival. Quickly spread across roof, with wind conditions contributing. Heavy smoke surrounding front of structure also obscured operations. Crews withdrawn and defensive attack started very soon. Battalion 1 with command. Ladder 2 plus Engine 15 deck gun deployed in front of structure; Ladder 5 deployed in rear of structure. Command post, medical monitoring and rehab on Arcadian Court. Staging on Wallingford Drive. Dispatched 3:12 p.m. Controlled at 4:16 p.m.
Five hydrants utilized, on Arcadian Court to Engine 19, on Wallingford Drive to Engine 21, on Pebble Beach Drive to Ladder 5, Tapers Drive to New Hope Engine 1, and fifth location TBD. First alarm: E19, E15, E11, L2, R1, B2, New Hope E1. Working fire: E27, C10, C20, A1. Second alarm: E21, E22, E28, L5, R2, B4. Third alarm (manpower): E9, L1. Car 2, Car 4, Car 71, New Hope Car 1 also on scene. Medical: EMS 16, EMS 2, EMS 10, EMS 11, EMS 121, D3, D2, M93, T1. Coverage included E14 at Station 19, E23 at Station 15, E13 at Station 9. Others? Overnight companies included E20, E24. No injuries. Eight units destroyed, seven families and 19 people displaced. Cause determined as accidental, from disposal of fireplace ashes on a back deck. Wind spread same and started fire. "A" shift working. See pictures by Legeros, who arrived 32 minutes later. Both WRAL and WTVD also posted aerial photos. The latter includes a couple dozen smoky shots early into the incident.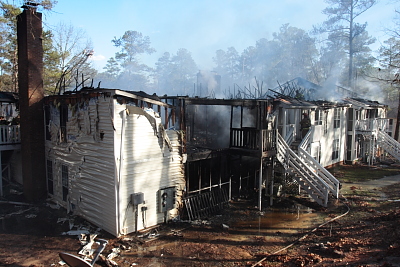 ---
Corrections and clarifications sought, particularly on third alarm for manpower, which I definitely recall as requested on radio.
Legeros - 03/06/10 - 09:07
Yeah, 2-banger with some add'l special calls.
Silver - 03/08/10 - 00:32
just curious…what does "457" stand for on Capt. Duke's helment shield?
rookie - 03/08/10 - 06:48
Old style helmet front, the Investigators don't have company specific helmet fronts, so they wear their old ones. "457" is his F.D. employee number.
Silver - 03/08/10 - 11:46
My son just moved in next door to this destroyed building. He heard crackling in the wall and smelled smoke. Someone was sent to check it out but said they found no problem with the electrical wiring. I'm not trusting that under the circumstances. There had to be a reason for the crackling sound and the smell of smoke. I'm afraid for him or anyone else to be living there. How sure are you about the cause of the fire next door?
Shirley - 06/23/10 - 07:36
Shirley, thanks for your note. For questions about this fire and its reported cause, as well as to provide any additional information, I'd recommend contacting the fire department itself. Their phone number is 919-996-6115. Other contact information is available on their web site, http://www.raleighnc.gov/portal/server.p..
Legeros - 06/23/10 - 08:08