04/11/10 224 W, 2 I - + 9 - 10 Yarborough Hotel
One of the city's biggest fires in the twentieth century was the Yarborough Hotel in the 300 block of Fayetteville Street. The four-story structure, built in 1852 and about 46,500 square-feet, burned on July 3, 1928. The building contained the regionally famous Yarborough Hotel, as well as numerous stores. The hotel also served as the Governor's Mansion at the end of That Recent Unpleasantness. After General Sherman occupied the Governor's Palace at the southern end of Fayetteville Street, the returning head of state refused to stay there.
The fire started in the basement of an elevator shaft, and quickly spread through the block-long building. The entire Raleigh Fire Department responded, along with Durham and Smithfield engines. Fifteen streams, 7,200 feet of hose, and 750,000 gallons of water were used. The 1:20 p.m. was transmitted from Box 314, No injuries, and but a single piece of equipment damaged, one ladder run over by an automobile. Here's a good picture of the scene. Several were taken that day. Still pending is a detailed narrative from Mr. Historian. Memo to self: do that some time.
Below is a Yarborough Hotel room key, bought on eBay a couple years ago. It reads: Yarborough House, Raleigh, N.C. - If carried away return unsealed by mail, postage 8 cents - [Room number] 21.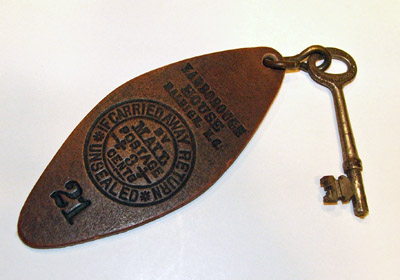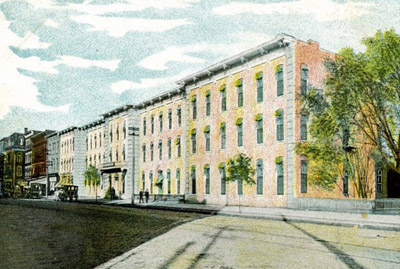 ---
Pardon my eyes, Mike, but that looks like "Postage 3 cents".
Duda - 04/19/10 - 09:38
I also have a motel key from the Yarborough Hotel plus some other items. Very neat !!
Robert Estep (Email) - 05/27/11 - 17:07