07/02/10 81 W, 1 I - + 6 - 3 Big Fire Fort Bragg
The holiday weekend starts with a warehouse fire at Fort Bragg this afternoon.
WTVD has posted
the below photo. Looks like a tower and a stick in the area, plus a master stream on the ground. Location
off Long Street at Karen Street
Longstreet Road near Keerans Drive
. Mutual aid from Spring Lake and Fayetteville. Building housed orchestra and band equipment of 82nd Airborne Division. More aerial photos probably coming.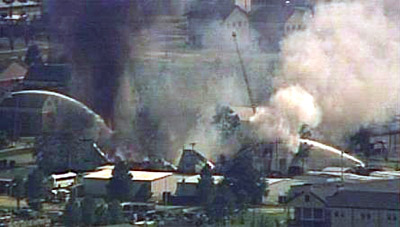 ---
The 82nd Airborne Division is asking anyone with instruments that they no longer use to donate them so the post can have it's traditional 4th of July celebration, complete with the 1812 Overture like always. If you can assist in this, please contact Warrant Officer Russ Houser at russ.houser@us.army.mil to help. The band lost everything — uniforms, instruments, music.

I've heard these guys play before… it's a great band. I only wish I could give back.
CJS (Email) - 07/02/10 - 20:30