08/01/10 186 W, 1 I - + 5 - 5 Very Expensive Model
For detailed scale replicas of fire apparatus, we're all familiar with Code 3 Collectibles, and other such die-cast models of a lower price range. Then climb toward the $200 and $300 range, and you get into more precision replicas, like Franklin Mint and TWH Collectibles. That's also the starting range for hand-built white-metal models, like Route 1 Scale Models. Climb even higher, into the $500 and $600 range, and you're looking at Fan Kit Models out of Romania. They're resin and come as both unpainted kits (cheaper) and built versions.
Below is their newest release, a beautiful 1:50 scale replica of an Oshkosh P-15 crash truck. Developed for the military in 1977, this eight-wheel monster carried 6,100 gallons of water and 515 gallons of foam. It was equipped with two 1,250 GPM pumps, and two 1,200 GPM turrets. It measured 45.2 feet in length, 10 feet in width, and a height of 13.8 feet. And those tires, those huge tires. As memory serves, the P-15 was listed in the Guinness Book of World Records for a number of years, as the world's most powerful fire engine. Read more about the model.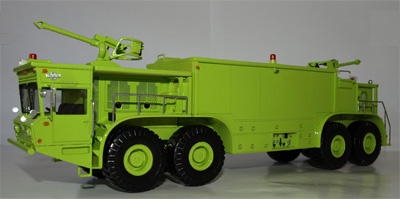 ---