08/07/10 88 W, 1 I - + 6 - 11 Beacon Lake History?
A reader inquires if there's a history of Beacon Lake, after learning of something interesting off Beacon Lake Drive. 'Tis a man-made swimming hole, with cement block walls around a creek, and a building in the woods.
Google Maps
shows a body of water at the location, but neither aerial photos nor Bing Maps Bird's Eye View reveal closer details. Too many trees! Sounds like some exploring is in Mr. Blogger's future. Readers, any history to report?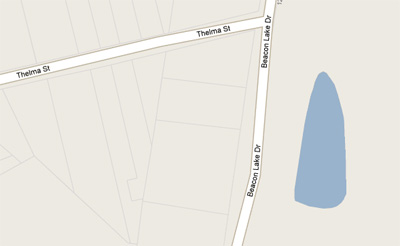 ---
Wake GIS says owner is BROADWELL, BRUCE 307 TIFFANY CIR GARNER NC 27529-4328, maybe start there. Owned since 1969. Taxes delinquent since 1992. Broadwell Co
307 Tiffany Circle Garner, NC 27529-4328 Phone: (919) 772-6214
2redline (Email) - 08/07/10 - 14:37
Mike – If you go to Bing's Birds Eye View zoom all the way in and face east between Thelma and Virginia you can make out a perfectly straight line of something in the woods (there are no perfectly straight lines in nature), possibly the block wall. There also looks like some sort of structure or platform above the wall too. You can see another straight line if you face west. Facing south there is a line of evergreens with the creek running in the middle. My guess would be if you went out there you would find the line of evergreens trees on the outside of the block wall and the lake filled in.
Jakey - 08/08/10 - 11:30
I went there yesterday, but determined that my shorts and sandals were insufficient for deep-brush exploration. I will return with long pants and shoes, notably since my skin does not react well to the oils of poison ivy. Could be good winter exploration, when the green is less thick. That is one overgrown area over there, kudzu a go-go!
Legeros - 08/08/10 - 11:33