02/06/12 364 W, 26 I - + 14 - 14 UPDATED: Historic Firehouses of Louisville
February 6, 2011
For your Monday morning historical enjoyment, here's an armchair tour of historic and former firehouse of Louisville. Twenty-eight (!) fire station buildings aged 50 years or more. (Didn't find any buildings less than 50 years of age, that were former fire department facilities.) Some active, though Engine 7 in their 1871 quarters closed in 2009. They know as or were believed to be the oldest continuously operating firehouse at the time. Source was their 2004 history book. Corrections welcome, as the companies histories are a bit convoluted. Lots of engines and trucks merged into quads, then split again, then merged again as quints. We'll add Louisville to our travel destinations. Google Street View photos for now.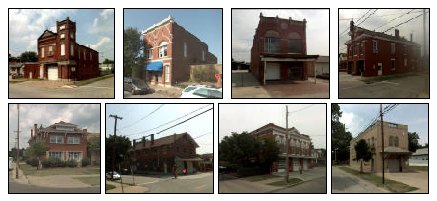 September 27, 2010
Let's take an armchair tour of Louisville's historic firehouses, shall we? Seventeen such structures, dating as early as a church built in 1848 and converted to a fire station in 1969. Several are still active, though their current assignments are not indicated. Source for the properties, build dates, and some descriptions is this National Register of Historic Places submission document

. Source for photos is Google Maps and Bing Maps. Looks like a great travel destination to me! Learn more about LFD.
Click each photo to slightly enlarge:
Hook & Ladder Co. #2
221 S. Hancock St.
1848 (as church)
1869 (opened)
Steam Engine Co. #20
1330 Bardstown Rd.
1900
Steam Engine Co. #7
821 S. 6th St.
Active
1871
Steam Engine Co. #18
2600 S. 4th St.
Active
1904
Steam Engine Co. #11
1122 Rogers
1883
Steam Engine Co. #21
1761 Frankfort Ave.
Active
1907-08
Steam Engine Co. #10
1419 E. Washington
1873 (typo? 1883? 1893?)

Engine Co. #8
725 S. 13th Street
1915
Hook & Ladder Co. #3
Frankfort Ave. and Pope,
northeast corner
Active
1890
Steam Engine Co. #22
3627 W. Broadway
1915
Steam Engine Co. #4
1024 Logan St.
1890
Steam Engine Co. #20
1735 Bardstown Road
Active
1917
Hook & Ladder Co. #4
2301 Jefferson St.
1890
Hook & Ladder Co. #5
1824 Garland Ave.
Active
1910
Steam Engine Co. #2 / Old HQ
617-621 W. Jefferson St.
1891
Engine Co. 13
100 N. 34th Street
1924?
Steam Engine Co. #3
802-4 E. Main
1893
Engine Co. 23
501 Ashland Avenue
Active
1927?
Steam Engine Co. #4
1614 W. Main St.
1894
Fire Department HQ
1135 W. Jefferson St.
Active
1936
Engine Co. #15
1328 S. Preston Street
Active
1896?
Quad 5
1150 South 28th Street
1937?
Engine Co. #16
1509 S. 6th Street
1896?
Engine Co. 9
417 E. Breckinridge Street
Active
1946
---
your website listed for Louisville Fire Department is wrong. you have listed Louisville, CO.
Greg (Email) - 09/28/10 - 10:32
Thanks Greg, post corrected.
Legeros - 09/28/10 - 20:21
Updated with five or six more stations, as found in Louisville Fire Department 1858-2004, published by M.T. Publishing. Definitely need to visit that town some time!
Legeros - 09/29/10 - 19:46
I believe we are housed in the oldest continuously active fire station. I work for the City Of Manistee Fire Department in Manistee,MI. We are located at 281 First St. and the station was built in 1888 and has been continuously occupied and used as a fire station since that time. We are on the National Historic Register. I am aware of some stations claiming the same distinction however in researching them further find they are either used for storing spare apparatus or used as museums or not continously manned. We celebrate our 125th yr of service to our community.Thanks, Fred
Fred LaPoint (Email) (Web Site) - 03/14/13 - 14:38