10/21/10 193 W, 2 I - + 12 - 5 Charlotte's Steamer in Action
Here's a neat video story from WBTV showing Charlotte's steamer "Old Sue" in action. The apparatus is a 1902 American LaFrance Metropolitan, third-size, serial number #2813. They report that the steamer was put through its paces after undergoing a recent restoration. (Operational restoration, no? Believe it underwent an exterior restoration some ten years prior.)
The five-ton engine-- capacity 600 GPM-- was even hitched to a team of horses! The steamer's appearance was also reported in this News 14 story. Over 40 steam engines served in North Carolina, including four for the Charlotte Fire Department. (Raleigh had two, Wilmington had eight!) At least ten have survived. Read some of that history.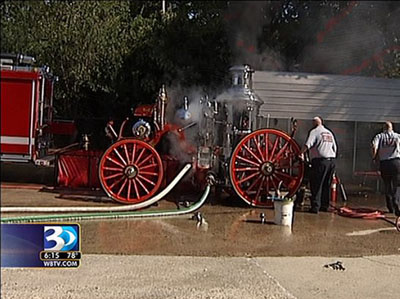 Notes
The steamer is also cited as a 1903 model. The correct year appears to be 1902, as based on such research as recorded in this document.
If the American and LaFrance fire engine companies didn't merge until 1903, that date from this Wikipedia page, how can a 1902 steamer be named as an ALF? Good question! Maybe the companies were already branding their products prior to 1903. Guess I'll pose this question sometime to Those in the Know.
---