10/28/10 160 W, 1 I - + 11 - 9 Ambulance Design, Safety Improvements, Sprinter Chassis
From this posting on his 9-ECHO-1 blog, reader DJ finds this posting from A Day in the Life of An Ambulance Driver on the subject of design improvements for safety. Meaning, greater structural integrity of ambulance modules, padded cabinetry, etc.
And, in a new design built by Crestline Coach on a Mercedes Sprinter chassis, pivoting bucket seats equipped with four-point restraint systems. As for the familiar bench, that's gone.
What's the inside of the thing look like? ADITLOAAD (now that's an acronym!) has posted a couple photos. And what are people's experiences with Sprinter-chassis ambulances, versus the modular boxes? Check out the reader comments, which number a couple dozen.
Our readers-- notably DJ-- can and hopefully will expand further on these subjects. We've discussed fire apparatus safety on many occasions. Let's turn to transport vehicles for a change. Read both of the postings from 9-ECHO-1 and ADITLOAAD.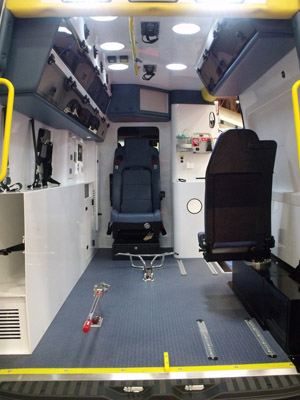 ---
On a related note, the NFPA is currently working on the draft of its first standard concerning the construction and design of ambulances. Those that are interested might wanna have a peek. Check out the Next Edition tab at this link:

http://www.nfpa.org/1917
attic.rat - 10/28/10 - 23:00