11/04/10 296 W, 1 I - + 11 - 3 Charlotte, Web Sites, Apples, Oranges
Speaking of Charlotte, they've recently updated their web site. Nicely arranged design of the home page. Detailed information on people, equipment, facilities, and programs. Some multimedia in there. Bios of command staff. Twitter feed widget on home page. Very interesting, very cool. Visit the site at http://charmeck.org/city/charlotte/Fire.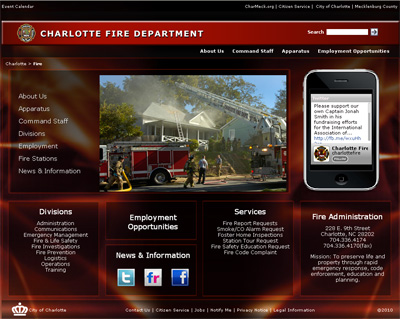 | | | |
| --- | --- | --- |
| How does the site compare or contrast with other departments around the state? Links are located to the right, but, really, we're talking apples to oranges. Not only are the size and scope of the departments different, they vary in resources available for web development. The people, skills, staffing, and technology available for creating web sites. They also likely differ in their strategic goals for public information and web presence. Different priorities. | | |
Heck, the base platforms (technology tools) are probably all different. Many municipalities use software that manages the entire town or city's web site. Some software packages are newer, some are older. Some are better-featured, some are less-better with features. There are many reasons why web sites are different between fire departments.
Note that we're talking official sites. Some departments have "unofficial" sites that eclipse the official ones in style, scope, or content. If you want detailed information about the Durham Fire Department, for example, you can tool over to this unofficial site. And we know how much information about the Raleigh Fire Department is available on this site by Yours Truly.
Finally, for your Thursday morning discussion topic, what fire department web sites around the state are you liking these days? And/or, which ones have been updated to noted effect?
---
Well duh, http://www.legeros.com as an un-official representation of the Capital city!
Silver - 11/04/10 - 11:28