11/08/10 200 W, 2 I - + 7 - 7 Durant Road EMS Station Opened Today
Wake County EMS opened the Durant Road EMS station today. Located at 10000 Durant Road, a ribbon-cutting ceremony was held this morning. The station is the new permanent home for EMS 15, which had been based at nearby Raleigh Fire Station 22 for several years. Additional, EMS 33 will be stationed at Durant Road at night, relocated from Stony Hill Fire Station 1.
As this press release notes, construction contracts for the facility were approved by the Board of Commissioners in November 2009. The EMS station is part of the North Wake Landfill Post Closure Master Plan, a program to add public-use and public-protection facilities to the 260-acre property. That plan has involved city, county, state, and citizen committee participants.
Next week On December 1, officials cut the ribbon on a joint Wake County EMS and Garner Fire Department station in southeastern Wake County. Guess it's time to update our list of EMS units, as previously blogged. And maybe it's time for a list of present and past EMS facilities, and years opened/operated. Any takers? Photos from today's ceremony are forthcoming from Legeros (below) and Lee.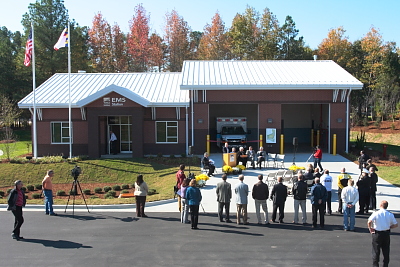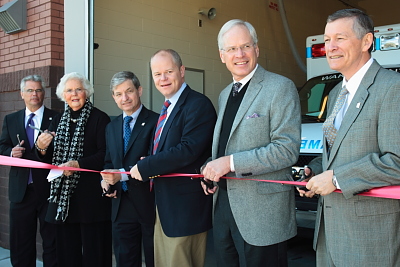 ---
Congratulations to WCEMS!
A.C. Rich - 11/09/10 - 01:21
great looking station!
charlie - 11/09/10 - 07:37