11/22/10 155 W, 1 I - + 9 - 3 Rockwell Rural Receives Pierce Custom Contender
Found on FireNews in their new deliveries section, check out this high-cab Pierce Customer Contender delivered this summer to Rockwell Rural Fire Department in Rowan County. Built on a Velocity chassis, it's equipped with a 2,000 GPM pump and 1,000 gallon tank. Or see another photo and a few more specs on the Pierce web site.
How did I find the latter? Google didn't find it, but the Pierce site has a search box. The results showed two pages with matches. Neither page had the truck, however. What next? Thinking about the nature of the site, it seemed logical that the web site search engine might have captured just a snapshot in time. Or two times, when the Rockwell rig was listed on those particular pages. But since new deliveries are always being added, I clicked to the pages after the indicated pages. Voila.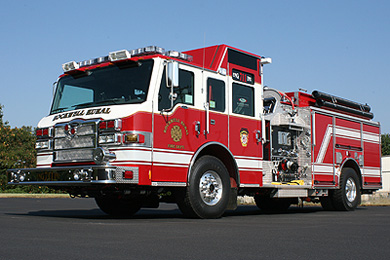 ---
This truck is somewhat unique in several ways. I believe Pierce calls these trucks Big Block Contenders because you can get them with up to 500 HP Detroits. The cab is a Velocity but with less "custom" options making it a Contender. Most Contenders are built at the Bradenton,FL plant but these are built in Appleton. Corrections welcome…
BFD1151 - 11/22/10 - 13:37