12/03/10 63 W, 1 I - + 7 - 9 Would You Believe a Lime Tanker From Selma?
That's for sale on GovDeals
, a 1985 Chevrolet/Scottsdale pumper-tanker painted in glorious lime. Eleven days left on that auction. How many lime trucks served in the smaller towns and departments around here, anyway? We only had one in Wake County, airport rigs notwithstanding. That was a Yrac pumper.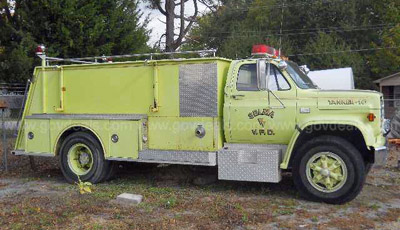 ---
Durham had lime colored trucks in the 70's and phased them out by the early 90's. Clayton had a lime engine still a few years ago. Nahunta fire department still operates lime trucks.
charlie - 12/04/10 - 04:26
The Selma truck was purchased as a used unit from someone in Wayne County, maybe Nahunta.
DJ - 12/04/10 - 12:11
Clayton Pumper #7 or 187 by the old Johnston County numbering scheme was a 1976 Ford. Lee Wilson had a great pic of it.
Jason - 12/04/10 - 17:24
YRAC operated a yellowish lime truck at one point… I believe it was a mid 70s Ford
CFP 7021 - 12/04/10 - 23:21
This truck was bought for the class 9 iso rating in the early 90's from Dudley Fire Department. It has sat in that spot since 2005 when the current Engine 10 was purchased.
Adam - 12/05/10 - 08:40
Yrac #3 (later 292) was a 1975 Ford with a John Bean 750 gpm two stage pump and 1000 gallon tank. A quick dump was added later. It had one 1 1/2 and one 2 1/2 preconnect line. The engine was a 534 cid gas burner with a 5 speed manual transmission.
DJ - 12/05/10 - 09:09