12/10/10 109 W, 1 I - + 9 - 5 Raleigh Fire Department Historical Society
With the calendar year close to closing, tax-deductible donations are on many people's minds. For those interested in fire history, the Raleigh Fire Department Historical Society is a new charity on the block. Our mission is the preservation and presentation of fire department history. You'll hear more about the historical society in 2011. We're planning a membership drive, as well as other projects. We were recently granted 501(c)3 status as a charitable organization. Donations are tax-deductible, and can be made at our web site,
www.raleighfirehistory.org
. We welcome your support. Even pennies are golden. Thanks for reading.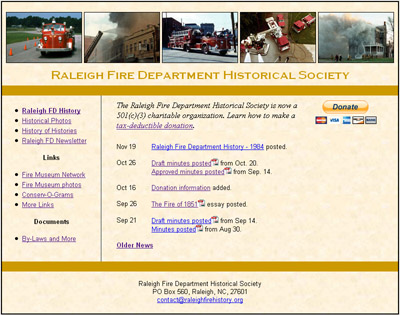 ---