12/14/10 150 W, 1 I - + 7 - 7 Two Men Save Neighbor / Yesterday's Fire on Garner Road
WRAL posted this story about two neighbors who rescued a man at an apartment fire in the 1300 block of Garner Road yesterday. James Cathey and Reginald Dudley, cousins, heard the smoke alarm in the apartment above them. They went upstairs, but received no response after knocking.
Opening the door, they found the apartment filled with smoke. Opening a window, they then found their neighbor unconscious in a chair. The two carried him and his recliner to the back yard. They then performed CPR and revived the victim. He was transported to WakeMed and later UNC Hospital.
Engine 3, Engine 1, Engine 13, and Ladder 4 were among the responding units. The fire in the two-story brick apartment building was quickly extinguished, and a few scene photos were shot as Mike Legeros was passing through the area.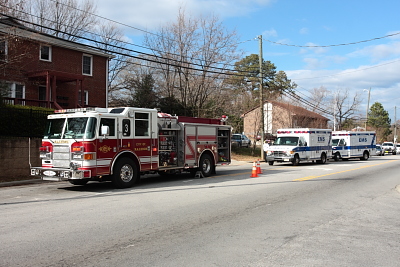 ---
"Opening the door, they found the apartment filled with." ??
Is this some kind of a new guessing game? :)
Paul - 12/14/10 - 12:44
Thanks for the catch.
Legeros - 12/14/10 - 13:32