12/18/10 274 W, 2 I - + 7 - 9 Last Night's Two Alarms / Midway West Road
Two alarms at 8900 Midway West Drive off Westgate Road. Engine 23 arriving at a one-story metal industrial building with 47,225 square-feet. Built 1986. Metal fabrication facility, occupied at the time of the incident. Smoking showing and declared a working fire. Raleigh and Durham Highway crews entered structure to determine exactly what was burning. Machinery found on fire. Engine 23 repositioned closer to fire location, outside rear loading dock. Ladder 6 positioned in same location, and deployed for roof access. Replay pumping from Engine 24 and extended supply line from hydrant south on Midway West Road.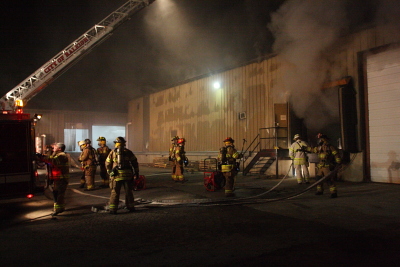 Second alarm requested about five minutes into incident. Dispatched 10:09 p.m. Controlled 11:19 p.m. Incident command located on Midway West Drive in front of structure. Medical monitoring and rehab located in parking lot about two blocks south. Fire apparatus staging on Westgate Park Drive, off Westgate Road. EMS staging three blocks south on Midway West Drive. Cause determined as accidental, with hot metal shavings from a grinder igniting, which caught the ventilation system on fire. Units on scene included: E23, E24, E17, E16, Durham Highway E1, E14, E9, E4, Durham Highway E3, L6, L3, R3, R1, B4, B3, B1, A1, C10, C20, C40, C4, C5, EMS 122, EMS 4, EMS 5?, D3, D1, T1. "C" shift working.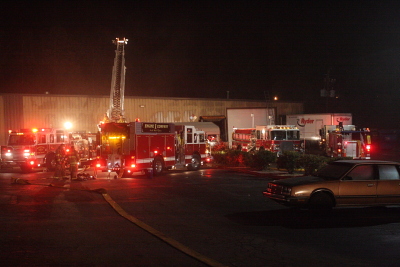 See preliminary photos by Mike Legeros. More photos to be posted later. Arrived about 20 minutes into incident. The new camera (Canon 40D) is providing better than the older one for low-night night shots. Helps that Yours Truly is really reading the manual for the first time.
---