12/25/10 248 W, 1 I - + 7 - 9 White Christmas
See what happens when you dream about something? So what sort of snow history have we experienced in North Carolina? Greatest daily snowfall was 29 inches at at Mt. Mitchell in 2001. Greatest monthly total was 56.5 inches in Boone in 1960. Data from this other NOAA site.
In Raleigh, the record snowfall amount for Christmas Day is 0.4 inches in 1947. Our coldest Christmas was 19 degrees in 1983. Our warmest was 58 degrees in 1964. Data from this other NOAA page. We probably won't wear a tropical shirt if the weather drops into 20s.
As for snow and ice storms in Wake County, this NC climate center database records 34 events between 1993 and 2010. And WRAL looked back at recent Triangle snowstorms in this story. But Google doesn't readily find any historical perspectives on snowfalls and snow events in Raleigh. We'll see what the day brings. Gotta have something to work on, even on Christmas!
As for the song "White Christmas," it was written by Irving Berlin in 1940. The version sung by Bing Crosby is the best-selling single of all time, with 50 million copies or more estimated as sold worldwide. The song's original bars are often dropped in records, and starts "The sun in shining, the grass is green..."
Other versions of the song include Frank Sinatra (1944), Perry Como (1947), Ernest Tubb (1949), The Drifters (1964), Elvis Presley (1957), Mitch Miller (1961), Doris Day (1964), Dean Martin (1966), Barbra Streisand (1967), and Otis Redding (1968). Read more from Wikipedia. Happy holidays, everyone!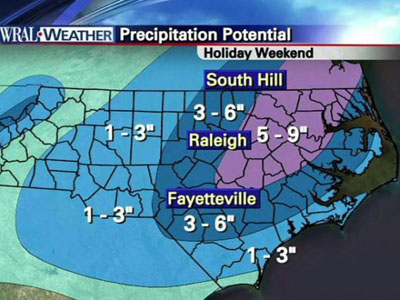 ---
Here we go, major snowstorms since 1948: http://raleighwx.americanwx.com/raleigh...
Legeros - 12/25/10 - 10:06
time to put the chains on the trucks.
crs - 12/26/10 - 00:07