01/11/11 131 W, 1 I - + 3 - 2 What The Heck Are Sanborn Maps?
A reader asks, who or what was Sanborn and what was their mission that resulted in such amazingly detailed maps? They were map-makers who charted urban areas of the United States for fire insurance purposes. Some 12,000 cities and towns were mapped between 1867 and 1970.
The map-makers noted building construction, water supplies, fire equipment, and even exposures. Among many other things. And the maps were big. We're talking bound volumes, with each sheet measuring 21 by 25 inches. And the maps were in color.
This Wikipedia entry tells more. Or you can view digital versions of many. We have also blogged often about them. Do a blog search on Sanborn, in the search box on the right side of this page.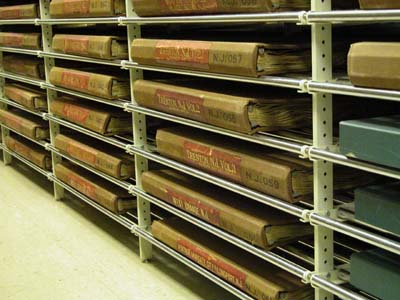 ---
Where is that photo taken from? Does the State Archives keep these or elsewhere? The website is neato, but I imagine browsing through the actual map books would be mo' cooler.
Richie - 01/13/11 - 22:53
That's a stock photo from Google, Ritchie. I don't know if physical copies are available for reading around here. The big books are exceptionally cool, those few times that I have encountered them. But I expect they are similarly fragile, and perhaps thus restricted for viewing.
Legeros - 01/14/11 - 07:46