01/21/11 105 W, 1 I - + 2 - 4 Camden Fire Department Rescue 1 Blog
While you read about and react to the news this week of drastic public safety cuts in
Camden, NJ
, you can tour the city and its fire department through the
Rescue 1 Blog
. Neat site that combines job reports, operational tips, and explorations of a distressed urban environment.
Looks like CFD operates
(or operated?) eleven companies in two battalions: six engines, three ladders, one squad, and one rescue. The 10.4 square-mile city looks like an interesting and perhaps dangerous place to tour. Memo to self, take a tenative peek the next time passing through Philly.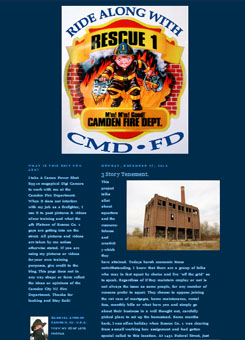 ---
This is actually one of the members on Rescue 1's personal blog about the job. Pretty good tips and some nice short helmet cam videos. Rescue 1 also has a facebook page for those interested
Mike - 01/21/11 - 10:37