02/03/11 153 W, 1 I - + 4 - 3 Goldsboro B-52 Crash 50 Years Later
Also from a reader, the Goldsboro News-Argus commemorates the approaching anniversary of the B-52 bomber crash that killed three of eight airmen on January 24, 1961. Two nuclear weapons were aboard the aircraft that crashed in the farming community of Faro.
Both bombs were jettisoned as the plane disintegrated in midair 12 miles north of Seymour Johnson Air Force Base. One bomb was found in the woods, hanging by its parachute. The other buried itself in a field after a free-fall speed estimated at 700 MPH. Needless to say, no nuclear explosion resulted.
The News-Argus has two stories about what happened, a recounting of the incident and a planned reunion for those involved in the crash. Read more on this Wikipedia page as well as this historical account. (And didn't we blog about this with a retrospective some years back? Can't find the thing, alas.)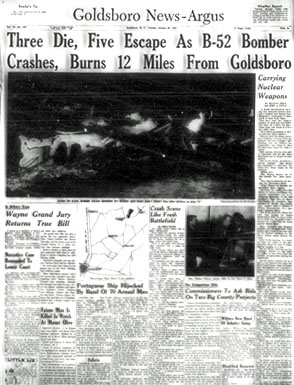 ---