02/03/11 112 W, 1 I - + 2 - 5 Kerr Lake FD Merges with Vance County FD
Last night's major fire in Warrenton brought a familiar-looking telesquirt to the scene.
Remember this discussion
? Incorrectly identified in
our posting last night
as a unit of the Kerr Lake Fire Department, the apparatus is now operated by Vance County Fire Department. We've since learned that Kerr Lake FD merged with Vance County FD several months ago. Or maybe as long as a year ago. The department was formed in 2007, as
we also blogged about
. One of their first trucks was Durham Highway's massive 1981 Mack/Darkley pumper-tanker. Maybe our readers to the north can add more.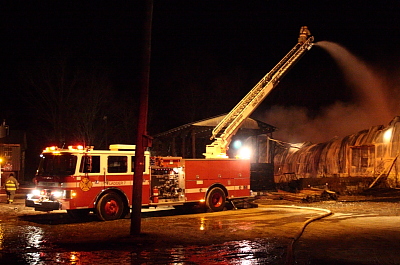 ---
The merger of Kerr Lake FD and Vance County FD occurred on July 1, 2010, a reader informs.
Legeros - 02/05/11 - 15:48