02/10/11 150 W, 1 I - + 10 - 9 Code 3 Collectibles FDNY Engine 63
It's been a while since I have bought a Code 3 Collectibles model. Maybe two years, maybe three. Their last couple dozen releases haven't exactly had me reaching for my wallet. Even their long-awaited American LaFrance 900 Series tiller tooling, issued late last year, was a no sale. Thus my excitement over the latest addition to the man cave model collection, this 1:64 scale replica of a Seagrave Maurader II engine lettered for FDNY Engine 63.
Really, really good detail on the piece. And a half-cab that actually (though minimally) tilts! Could this be a sign that better days (or, at least, better releases) are coming for Code 3? We can hope. Next in the release schedule is a Seagrave Marauder II aerial platform. That one should be a beauty, too. Visit the Code 3 web site for more pictures. Bought mine through Past-Time Hobbies.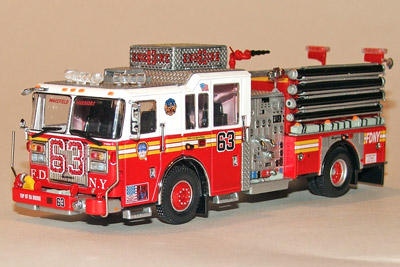 ---
Pretty cool! I have not added a Code 3 in about 6 years. Maybe time to start back. Maybe not. We'll see.
DJ - 02/10/11 - 14:15
You have a PDF file showing an "Orange County, FL" engine company. It is California FYI and located in Mission Viejo, CA. Engine 9 was numbered 9109 back when OCFD was distinguished from other departments as Station 91.
Rocco DiFrancesco (Email) - 06/15/15 - 18:13