02/11/11 236 W, 1 I - + 3 - 3 Book Report
Couple books to report about. From M.T. Publishing comes a second volume by the Los Angeles Fire Department Historical Society. Companies in Quarters: A Pictorial History of the Fire Houses of the Los Angeles City Fire Department. Here are product details. Hardcover, over 200 pages. Section of color photos. Features pictures of all 106 current LAFD stations, and over 120 former engine houses. Entire section in fact on bungalow-style stations, which were popular early in the last century. If you're a fool for old firehouses (is that one word or two words?), this one's worth a look.
Next is a print-on-demand book published by Blurb. This one's called Classic Chicago Fire Department Images from the 1950s and 1960s. Here are product details and a preview. The authors are Steve Redick and Warren Redick, veteran son and father fire photographers from the Windy City. We blogged about their old photos before, which are found on Steve's web site. Here's the historical section.
The book is available in three formats, with soft- or hardcover options. The picture quality is very good. The color images-- many presumably scanned from 35mm slides-- leap from the page. And it passes the proof of concept test for Yours Truly, who has wondered just how well photos reproduce using some of these self-publishing services. Might be time to try a collection of my own incident photos...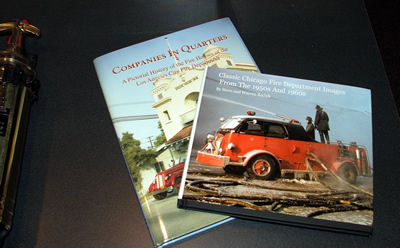 ---
Would similar book projects be on tap for the RFD Historical Society down the road?
Emily - 02/11/11 - 20:46
There are plans to create a commemorative history book for fire department's 100th anniversary as a paid department in 2012, which will involve RFDHS, for starters. I also have a couple ideas brewing for bound historical matter. Catch me in person to hear more.
Legeros - 02/12/11 - 08:51