02/15/11 117 W, 1 I - + 7 - 3 Charlotte Plane Crash Press Photo, 1974
Unusual item for sale on eBay
, press photo from the September 11, 1974 plane crash in Charlotte of Eastern Air Lines Flight 212.
We've blogged about that incident before
, after finding an Hose & Nozzle article on same. The fatalities totaled 71 of the 82 souls aboard. And what is the origin of the phrase "souls on board?" That's a holdover from maritime tradition.
Here's a discussion thread
on same. Key quote: "Ships required a term that comprehensively covered everyone who could possibly be on board, in whatever capacity: the officers, the crew, the crew's families, the supercargo, the passengers, the local pilot, native bumboatwomen, etc."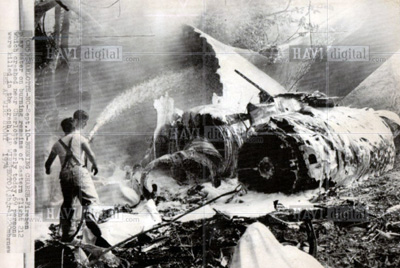 ---
Back in my RDU days, one of the pilots I knew with one of the smaller airlines said 'souls on board' meant 'live' persons, i.e. no one in a casket was included. I don't know if there was any truth to it, but that meaning has always stuck with me.
DJ - 02/15/11 - 15:33