02/17/11 222 W, 1 I - + 8 - 7 Kenansville Prison Camp Fire Kills 11, 1931
Performing my regular eBay search on "NC fire" finds this 1931 issue of the Omaha Bee-News for sale. The contents of the issue are described as including a Kenansville prison camp disaster. Subsequent Google searches finds the story of a Duplin County prison camp (also called stockade) that burned on March 7, 1931. Eleven convicts were killed, which makes the fire the second deadliest in the state's history, behind the Hamlet chicken plant fire that killed 25 in 1981. See my database of deadliest fires in North Carolina.
The prison camp was located several miles from Kenansville. The fire started in the early morning, and guards and citizens rushed to release as many of the 52 prisoners as possible from their steel and wooden cages. Flames spread from the camp kitchen to the sleeping quarters. Camp Superintendent John Best reported the fire using the camp's lone telephone line, and nearly all of the town's citizens responded to assist.
Four guards worked as fast as possible to open cell doors. Forty-one prisoners were saved, and 11 died. Read this account from the Charleston Daily Mail as transcribed on GenDiasasters. The facility appears still operational, as this NCDOC page states. They cite the year of the fire as 1928. Next step, updating my fatal fires database accordingly.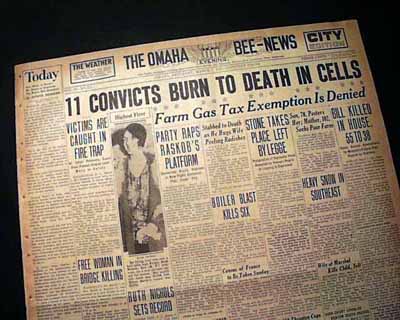 ---