02/24/11 704 W, 1 I - + 8 - 8 One Meridian Plaza - Twenty Years Later
Yesterday was the twentieth anniversary of the One Meridian Plaza fire in Philadelphia that killed three firefighters on February 23, 1991. The twelve-alarm (!) blaze in the 38-story high-rise office building changed the way such fires were fought. The fire started on the 22nd floor and burned out of control for hours, until it reached the sprinklers on the 30th floor. It destroyed eight floors, and damaged neighboring buildings.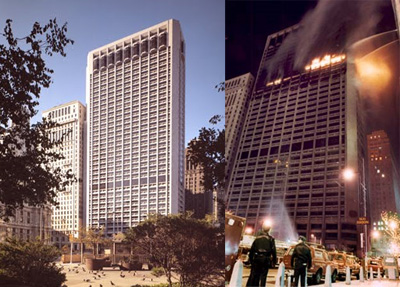 During the second hour of the fire, as it spread onto the 23rd and 24th floor, Captain David P. Holcombe, Firefighter Phyllis McAllister, and Firefighter James A. Chappell from Engine 11 were assigned to ventilate the stairwell at the top level. They entered a center staircase from the 22nd floor, and soon reported they were disoriented by heavy smoke on the 30th floor.
They reported their distress and broke a window for ventilation, search teams were sent to that floor, and did not locate the crew. That team moved to upper floors, and became disoriented and required rescue. Hours later, the team from Engine 11 was found, all unconscious and out of air. They could be not be resuscitated.
That's a condensed summary of some of what happened. Here are some links to learn more about the incident, its impact, and the building itself, which was demolished years later. At the time it was destroyed, it was the world's third tallest building to be demolished:
And this week in the Firehouse.com forums, user FWDbuff posted this run card for the incident:
Saturday, February 23, 1991, "A", "D" Platoons, F.C.C. Platoon 2, 4, 1

8:27 P.M. - Box 495 - 15th & Chestnut Streets
Sq.43, Engine 1, 20(LDH), 11, Ladder 9, Snorkel 5, B.C. 5,4

8:29 P.M. - Special Call, b/o FCC - Medic 7

8:34 P.M. - 2nd Alarm, b/o B.C.5
Sq.8, Engine 10, 24, 44, 13(LC), Ladder 23, B.C.3(LO),11

8:37 P.M. - Special Call, b/o FCC - Medic 13, D.C.1, Air Unit 2

8:39 P.M. - Special Call, b/o B.C. 5 - Ladder 1

8:47 P.M. - 3rd Alarm, b/o D.C.1
Engine 49(LDH), 40(LDH), 60, B.C.1

8:48 P.M. - Special Call, b/o FCC - Chemical 1, 2

8:56 P.M. - 4th Alarm, b/o D.C.1
Engine 5(LDH), 29, 16, 3(LDH), 34(LDH), Air Unit 1

8:58 P.M. - Special Call, b/o FCC - Snorkel 2

9:00 P.M. - Special Call, b/o FCC - Medic 21B

9:04 P.M. - Special Call, b/o FCC - B.C.8, Medic 25B

9:05 P.M. - 5th Alarm, b/o D.C.1
Engine 33, 27, 53, 25, Light Wagon 1 w/Ladder 11

9:55 P.M. - 6th Alarm, b/o Car 1
Engine 12, 22, 50(LDH), 59, Medic 3

10:00 P.M. - Special Call, b/o Car 1 - ES-10

10:23 P.M. - 7th Alarm, b/o Car 1
Sq.57, Engine 63, 14, 28(LDH)

10:37 P.M. - 8th Alarm, b/o Car 1
Engine 61(LDH), Sq.9, Engine 56, 41, Medic 16, Car 6

10:53 P.M. - Special Call, b/o Car 1 - Pennstar Helicopter from H.U.P.

11:05 P.M. - Special Call, b/o Car 1 - Ladder 13

11:12 P.M. - Special Call, b/o Car 1 - Medic 1

11:30 P.M. - Special Call, b/o Car 1 - B.C. 2, 10

12:01 A.M. - 9th Alarm, b/o Car 1
Engine 38, 66, 45, 68, Ladder 18, Tower Ladder 6

12:30 A.M. - Special Call, b/o Car 1 - B.C.1102

12:33 A.M. - 10th Alarm, b/o Car 1
Engine 72, 18, 7, 2

12:41 A.M. - Special Call, b/o Car 1 - D.C.1A

1:09 A.M. - Special Call, b/o Car 1 - Ladder 25

1:21 A.M. - 11th Alarm, b/o Car 1
Engine 71, 35, 103, 119

2:21 A.M. - 12th Alarm, b/o Car 1
Engine 125, 181, 36, 52(LDH)

3:13 A.M. - Special Call, b/o Car 1 - B.C. 13, 9

3:21 A.M. - Special Call, b/o Car 1 - Medic 15

4:45 A.M. - Special Call, b/o Car 1 - Engine 180(LDH/FTA)

5:30 A.M. - Special Call, b/o Car 1 - Ladder 14, Rescue 1

5:32 A.M. - Special Call, b/o Car 1 - Medic 14

5:41 A.M. - Special Call, b/o Car 1 - Engine 19(LDH)

3:01 P.M. - Fire Under Control, b/o Car 1


Note: LDH = Large Diameter (5") Hose


Rescue 1 had not yet been reactivated as a full-duty company 

---