04/16/11 202 W, 1 I - + 4 - 0 This Morning's Two Alarms / Farrington Drive
Two alarms at 112 Farrington Drive. Engine 4 arriving with fire showing from the roof of a two-story, wood-frame apartment building with 4,166 square-feet. Built 1985. Declared major working fire, which resulted in automatic dispatch of second alarm. Interior attack, with fire in second-story apartment and attic space. Deluge gun also utilized outside for a brief bit.
Two hydrants used. Command and medical functions on Farrington Drive, west of building. Staging on Six Forks Road, which was closed by police. Dispatched 3:19 a.m. Controlled 3:58 p.m. Two apartments rendered uninhabitable. Three people displaced. No injuries. First alarm: E4, E18, E15, L1, R1, B1, EMS 3. Second alarm + working fire assignment: E16, E9, E22, E19, L5, B4, R3, A1, C10, C20, C40, EMS 122, EMS 15, EMS 2, D3, D4, M92, T1. Other: C2, WC1.
See photos from Mike Legeros (and others forthcoming from Lee Wilson). The pics from Yours Truly include his trademark portrait-style close-ups. Said Little Red Riding Hood to the Big Bad Wolf: my, what big pupils you have. That's from the flash, sort of a red eye effect. But with no mugs ugly enough to the break the camera, despite that oft-repeated joke.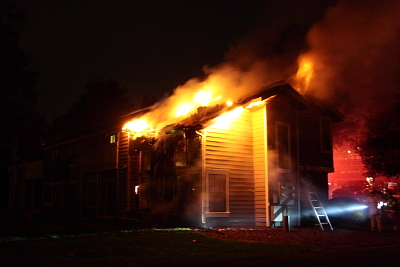 ---
I see E-15 blitz nozzel was used. Can anyone tell us how it worked, good or bad!
Jg - 04/16/11 - 13:41
I have a question or two based on recent photos…what is with the "unconventional" lettering of "RIT" on the rear of the reserve ladders? I noticed it last week on 210 and then again on the mid-mount lafrance…which brings me to my next question…what took Raleigh away from mid-mounts? Was that a trial truck? what's the history behind it? Which brings me to my last question…why did RFD go with sticks for a while verses buckets? Was it all about the benjamins? Silver, mikey…I'm sure you can expand accurately and wash out some of the coming speculative answers.
BW - 04/16/11 - 15:32
@BW; the "unconventional lettering" is because it is in fact a reserve piece. "We" might set ours up different than "them" when running it. So, if you use some masking tape it can be easily removed with no damage to the truck, and let's the crew acting as RIT to find the RIT kits quickly. It isn't the most appealing to the eye, but it gets the job done, is easily removed and is temporary.

The ALF was a demo that the CoR "got a deal" on. It saw service as Truck 1, then Ladder 20. I've been assigned to it, and can say that it has indeed had its' share of maintenance issues. Even had to bail out of it one day due to fire shooting out of the engine access door inside the cab.

Not sure the reasoning behind sticking with sticks. They both have their positives and negatives, but I prefer sticks over platforms personally. To each is own…
Silver - 04/16/11 - 16:26
I just want to say, how grateful for the Raleigh Fire Departments quick response and quick work, they saved our apartment on the opposite end of the building. I just want to let you know that you guys are awesome, and we are blessed by you guys because we did not lose anything, our apartment didnt even smell like smoke. You guys are awesome.
Philip Seawell (Email) - 04/18/11 - 16:44