04/19/11 168 W, 1 I - + 2 - 3 Lines and Lanes and The Guys in White Hats
Those are Progress Energy workers pulling a power line free from vehicles on the Beltline just west of Yonkers Road yesterday afternoon. One of the lines were snagged by a tractor-trailer truck, which pulled down the accompanying 50-foot pole located on Yonkers Road. Other lines dropped and were struck by other vehicles. Traffic stopped on all lanes, in both directions. Engine 7 responded on Yonkers, Engine 9 on the eastbound lanes, and Engine 12 on the westbound lanes. Two people were transported with minor injuries. See more pics.
As for the guys (and gals) in white hats, they have been really busy lo these last days. Probably tied with or surpassing street and highway workers for labor expended. Next question, what's involved in getting those two collapsed transmission towers operating on Valley Stream Drive? See some of those shots, from Sunday's summary set. Expect big cranes in action, there. Somebody please take and share pictures!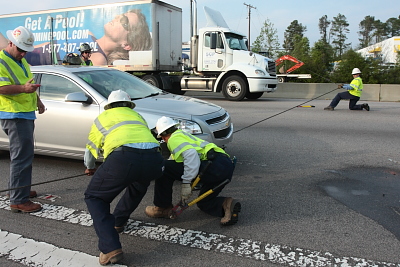 ---