06/18/11 330 W, 1 I - + 1 - 2 Links to Lee's Photos
You may have noticed a new format for linking to the photos of Lee Wilson's as featured on our incident photo site. The reason is the result of a change to the Flickr photo site, where Lee posts his photos. See, these photos are posted in two places.
Those by myself physically reside nearly always on legeros.com/firepics. Those by Lee always reside on flickr.com/leewilson. (And occasionally, Mike's photos get moved or archived on flickr.com/legeros.)
Yeah, you don't notice the difference. Plenty of people see Lee's photos on Flickr and think they're mine. Or vice-versa. The web page just seem too alike. Or maybe it's just that they remember the task (view photos) and not surroundings (web page).
Lee's or any person's posted to Flickr can be accessed a number of ways, including:
Now, to add a link to Lee's photos to www.legeros.com/firepics, a unique web address (or URL) is required. http://something.something. About a week ago, Flickr changed some of it's behind-the-scenes stuff. Archive pages are now much longer. They used to have, say, 16 photos per page. Now they have dozens.
Linking to Lee's archived photos was previously easier, because you could create a link to the URL of one of those shorter archive pages. That is no longer possible, and which is why we're seeming to "combine links" on the photo site. Like this: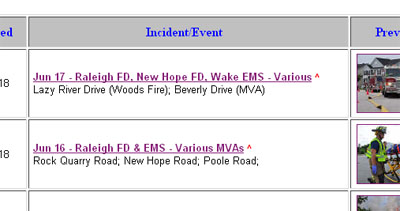 If that doesn't make sense, don't worry about. Just know that there are technical reasons for the change. If you can figure out a workaround, and a way for Mr. Blogger to derive unique URLs for those "combined links," then please share your information! For everyone else, this is how your sausage gets made. Hope it doesn't make you queasy.
---