06/18/11 171 W, 2 I - + 6 - 5 Cisco Network Emergency Response Vehicle (NERV)
One of the many specialized emergency response vehicles on display at StormFest in downtown Raleigh today was Cisco's Network Emergency Response Vehicle (NERV). The company, with an office in the RTP, has two of these babies, one of each coast. As this PDF web document describes, the vehicle is a self-deployable command communications resource for first responders, critical infrastructure, and other organzations affected by catastrophe and requiring mission-critical networking services.
The unit and its staff can continuously operate for up to 72 hours. Once on scene, they can be fully operational within 15 minutes. Shut down for redeployment also within 15 minutes. The unit is self-powered by generator, or can use shore-power. It's equipped with a 1.8-meter satellite antenna that provides up to 5 Mbps of bandwidth for voice, video, and data. Said the team today, it can serve some 200 users simultaneously. Pretty cool, but needs a black helicopter to go with it. More photos later.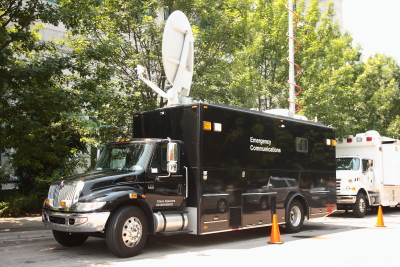 ---
I wondered where those two Wolf Coaches ended up. I did the installation of the entire radio stack you see on the right side between the monitors and the audio selector and related equipment underneath on both rigs. They have radio patch panels on the side between the front body access door and the door into the control center. The stack consists of two each M/A-Com VHF and UHF radios, three M/A-Com 800MHz radios, one Tri-band amateur radio, one Uniden trunking scanner, one Motorola CDM1250 lowband mobile, and an audio combiner/selector system. The speakers for the audio component live behind the Wolf Coach logos on either side of the wall in the upper corners. The M/A-Com radios (and I think the Ham and Moto later) are linked in to the satellite communications system.

They were a great deal of work for one guy, but I'm very proud of the outcome and have gotten positive feedback from Wolf and Cisco. I have pictures of the build-out if anyone is interested.
Duda (Email) - 06/20/11 - 12:51
Thanks Mike for posting the pics! If anyone would like more information about Cisco's Tactical Operations (TacOps) team and the Network Emergency Response Vehicle, come check out our web site at http://www.cisco.com/go/tacops . You can also follow us on Facebook (http://facebook.com/cisco.tacops) where there are plenty of photos of recent deployments – and on Twitter (http://twitter.com/RTP_NERV and http://twitter.com/SJ_NERV).
Sue-Lynn Hinson (Email) (Web Site) - 06/20/11 - 14:12