06/23/11 108 W, 1 I - + 3 - 1 Boat on the Road
That's Rescue 3 in the background, boat trailer in tow, and clearing the scene of an apartment fire this afternoon on Fort Sumter Road. They spent the morning at a search and recovery operation at Lake Wheeler, along with Engine 20, Battalion 2, and numerous other agencies include Fairview and Apex fire departments. Crews were searching for a missing fisherman, and who was later discovered drowned. By way of tragic coincidence, the incident repeated the events of Saturday's search and recovery at the lake.
See that prior blog posting
. News reporting from today includes
WRAL
and the
News & Observer
.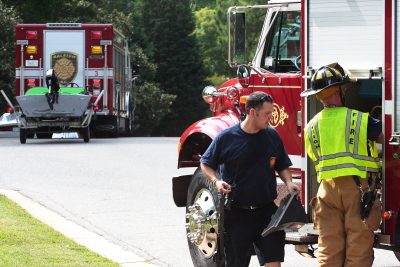 ---
does anyone no if they responded emergency to this fire or ran routine due to the trailer in tow, just curious???
aaron - 06/24/11 - 21:56