06/26/11 99 W, 1 I - + 2 - 7 Old Winston-Salem Telesquirt For Sale
Who wants to buy an old fire engine? Well, everyone, of course. But if a triple-axle telesquirt's on your radar, this sun-bleached beauty awaits your inspection outside Knightdale. Same is sitting outside Pooles Well Drilling. The thing is a 1984-85 Kenworth/Grumman with a 75-foot aerial. Readers can perhaps add additional specs.
We've blogged about
this baby before. The thing's now for sale. You know you want one, and at least to see the reaction of your wife when you drive the thing home.
See more photos
.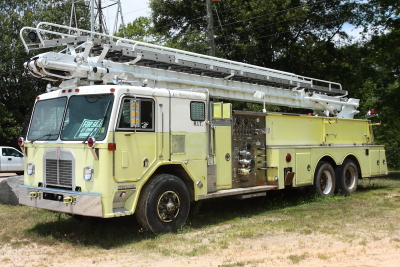 ---
That is a old City of Winston-Salem aerial. It was a reserve housed at Station 16 prior to getting surplused, ran as Truck 2 (out of Station 5) prior to being a reserve. King Fire Department (Stokes Co.) bought the twin to this rig and ran it as Truck 30 for a while before it fail either ladder or pump test. Last time I saw that unit it was sitting at the city yard in King.
Christopher - 07/20/11 - 22:33
I was riding on the back of this rig at the exact time when the planes hit the twin towers in New York City. It was my first shift back on Truck 3 on September 11, 2001. Beside me was a rookie who had moved down here from New York City. He was riding his first shift after graduating recruit school. We were on our way to EMT Con Ed. Fought a lot of fire riding that truck including my first time riding in charge.

The sister of this truck has been stripped for scrap.
Joe Ramsey (Email) - 05/09/14 - 01:23
I was assigned to this rig and its twin back in the day. Seen alot of work
Clay Simmons - 05/25/14 - 20:21