07/13/11 114 W, 1 I - + 3 - 5 Raleigh Police Department Hazardous Devices Unit
Here's a police support vehicle seen today at Daniels Middle School, where Active Shooter classes were being conducted for EMS and law enforcement personnel. That's a Chevy Silverado 3500, right? Body looks similar but maybe not an exact match to the fire department's haz-mat recon vehicle.
The police department also has a box truck for hazardous devices response, built by Matthews Specialty Vehicles. That unit transports a robot, and pulls a device disposal trailer, if memory services. Wonder how many other special support vehicles are part of their fleet? We blogged about one of them recently, this Chevy/Hackney equipment truck.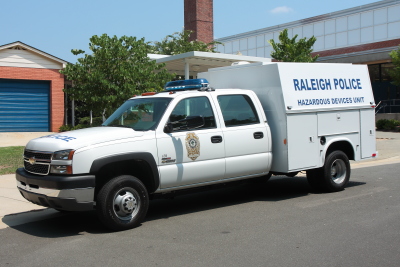 ---