07/16/11 258 W, 1 I - + 5 - 3 State Capitol Police Budget Cut in Half
Today's News & Observer has an interesting article about the State Capitol Police and the budget cuts they've suffered. Theirs was halved from $4 million to $2 million, notes the story. That resulted in a reduction of 40 employees, e.g. sworn officers, security guards, telecommunicators, and support staff. Their 14 patrol cars have been reduced by half, and they are no longer conducting patrols at night. Staffing 16 state government buildings is their focus post-cuts.
The State Capitol Police was formed in 1967, to provide security for state government facilities. Those number 160 buildings and offices both downtown and in west Raleigh. How many people work in same? The story notes there are 26,000 state employees, county-wide. The department also monitors over 1,000 (!) alarm systems in facilities statewide.
Who's covering the beats of the reduced State Capitol Police force? That'll be the Raleigh Police Department, which itself is operating in a leaner mode along with other departments in the city. By the numbers, notes the story, $2 million is the amount of savings to the state. And $1.7 million is the estimated amount the city will spend to assume patrol responsibilities.
Where will that money come from? Read the story to learn more, and which includes a dozen-some reader comments. For blog discussion, topics could include public safety cuts in general. What are the core services and priority service levels for police, fire, and emergency medical agencies? What aspects of those are reasonable to trim or cut outright? Tough times.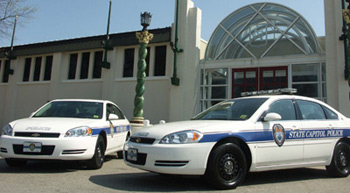 ---
According to the N&O: $2 Million was saved by the cuts, but $1.7 million (estimated) will be spent by Raleigh to cover the areas left open by the layoffs…. So really, only $300k have been saved right? Was hoping they could spare Public Safety and cut some of the other spending elsewhere.
Chris (Email) - 07/16/11 - 20:38
Any RPD guys that know; how does that work? For all that time they had jurisdiction, now RPD takes it? Is that done by the swipe of a pen? Or, is the State having to throw some money at RPD for them to cover it?
Silver - 07/16/11 - 21:12
reminds me of when the County shut down Western Wake Station 2 to save money, and ended up spending more money to contract with Cary FD to provide the services than it cost to keep the station open…
magic trick - 07/17/11 - 08:15
It was hard to tell from the articles if the state was going to pay RPD anything. I doubt it. It will still save the state $2 million, it's just that it will cost the city $1.7 million. Seems like that was what RPD's chief was speaking about.

In reading stuff from around the country, it seems like when the politicians say they have to cut spending on EMS, fire, and police, it is a dire picture that is painted to get the voters to go with it. After all, for the vast majority of the population, that is a 'painless' act- most folks never need us. However, let them talk about cutting teachers and education (OMG, we will be hurting the children), parks and recreation (OMG, the children and puppies will have no where to go), the libraries (OMG, the children will not have books to read to their puppies), the public is up in arms.

I see TONS of waste with Medicaid, Medicare, and Social Security, but see what happens when you try and adjust those…

It is just easier to cut a police department that only arrested 70 people last year. Bad idea, but what can you do?
DJ - 07/17/11 - 09:19
Good comments, DJ. Arrests are only one data point, however. Are there numbers on crimes prevented? Laugh, it's okay. Just like numbers on fires prevented. Short of mystical, magical, means, it's impossible to determine the calls for help that didn't need to happen. (Although there certainly exists data on reported crimes. Inferences and conclusions could be drawn there.)

The article details some of the services provided by the Captiol PD, as night escorts of females to vehicles. Wow, we were paying officers (or perhaps just the guards) for escort duty, one camp might chortle. But isn't that also a form of crime prevention, a different perspective can say? (Again, someone data-driven probably has that answer.) But that's just a side example. A larger issue is service levels.

All services come from resources. All resources come from somewhere. The current economic turbulence is forcing new or renewed examination of such. What exactly are we willing to pay for, with regard to what our fire, police, emergency medical departments? What are the need to haves, versus the nice to haves? I am guessing those discussions took place at the state-level, with the Captiol Police.

And that's the best introduction to this line of thinking that my 8:40 a.m. Sunday brain can concoct.
Legeros - 07/17/11 - 09:44