07/29/11 301 W, 1 I - + 7 - 9 Asheville Updates
This morning's Asheville Citizen-Times provides some additional details about yesterday's four-alarm fire that killed Capt. Jeff Bowen, critically injured Jay Bettencourt, and injured nine other firefighters. The article clarifies details reported yesterday in our original blog posting. Eleven firefighters total were injured, including Bowen, who died after being transported to nearby Mission Hospital. He and Bettencourt were conducting a search. Bowen called a "mayday" over the radio, the distress message that sent additional firefighters into the building, to find him.
Bettencourt was transported to Joseph M. Still Burn Center at Doctors Hospital in Augusta, GA. His condition was listed as critical Thursday night. Nine others were also transported. Three were treated as released. The remaining six were still in the hospital late yesterday. The fire started on the fifth floor of the five-story medical office building at 445 Biltmore Avenue. With the exception of one room, the building was not equipped with sprinklers.
Read this morning's Citizen-Times story. There's also a slideshow of 29 images. There's also a second article about firefighter risks and duty deaths.
Among the tributes to Capt. Bowen is this Facebook page, Capt. Jeff Bown In Loving Memory. FireNews has also posted a transcript of the radio traffic, from the time of dispatch to the fourth alarm.
It was dispatched as a fire alarm activation at 12:29 p.m. The first unit, Engine 2, arrived two minutes later, with heavy smoke and flames showing from the top floor, rear of the building. Working fire dispatch (FM10, C3, R3, B1, E6) and second alarm dispatch (?) started at that time. The third alarm (E8, E10, Q5, B2) was dispatched at 12:56 p.m. The fourth alarm (L10, E4) was dispatched at 1:43 p.m., about 13 minutes after the mayday was issued.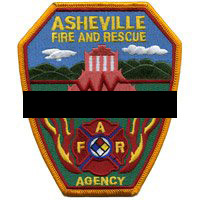 ---
This morning's Asheville Citizen-Times has a story about the amount of time taken to get water onto the fire. The headline is a bit provocative, and some might object to their analysis and inferences so soon. http://www.citizen-times.com/article/201..
Legeros - 07/30/11 - 09:23
I believe I will post notable news links related to the fire as comments on this thread. For notable news links related to the funeral service, I will post as comments to the arrangements thread. That should keep the two lines of thought separate.
Legeros - 07/30/11 - 09:24
It definitely took quite a bit of time to get water on the fire and Capt Bowen's line never got water if you listen to the recording. I will be interested to hear what the cause of this is when the NIOSH report comes out. It sounded like the standpipe system had issues and not the eng's that were hooked up
Mike - 07/30/11 - 09:49
Danger, Will Robinson! No sure if we'll be able to talk about water supply, or other tactical issues. Some readers may take offense. I have witnessed conflicting opinions on propriety on other forums, in other discussions with other duty deaths. Some/many feel that a period of respectful silence should be observed. Others opine that lesson-learning should start ASAP. Not sure how we'll find ourselves, on this blog. Heck, even talking about the talking might seem disrespectful! It's a sliding-scale of sensitivities, I suppose. They remain in our thoughts, of course. That isn't changing.
Legeros - 07/30/11 - 10:00