08/04/11 213 W, 1 I - + 4 - 1 Rebuilt Brick by Brick
Heard this story before? Engine House No. 5 in Grand Rapids, Michigan. Built in 1880 at 1181 Monroe Avenue NW. Replaced by a modern, one-story fire station around 1980. Then torn down in 1981, brick-by-brick, and reconstructed as a fire museum in 1984, in the town of Allendale, west of Grand Rapids. How wild is that? Here's the museum's web site. Here's a history site about Grand Rapids engine houses. What other fire stations have you heard of, that were rebuilt or reconstructed at second locations?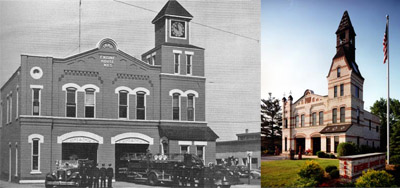 Now, why is the Grand Rapids Fire Department on this blogger's mind? Things started with our posting about new f
reeway blocking unit
. That led to an idle visit to the department's web site, and checking out their stations. That led to the realization that (a.) wow, they have some really old buildings and (b.) hey, my trip next month to Iowa > Illinois > Michigan puts me in close proximity to said city.
Research has started, and some dozen former or historic fire station buildings have been found in town. That, my friends, is the bonus of loving fire history. No matter where you travel, there's always some sort of history to be found. And sometimes even old buildings to photograph.
---