08/04/11 226 W, 1 I - + 6 - 1 Tuesday's Fire on Wagram Court
Still working on the full series of pictures from Tuesday's house fire. See the preliminary pics by Legeros. Here's the incident description: Working fire at 1301 Wagram Court. Engine 4 arriving at a two-story, brick-and-frame, single-family dwelling with 2,141 square-feet. Rear deck fully involved, with fire extending up the side of the structure and into the attic space. Lines pulled and crews attacked both inside into attic space (one line), and outside to extinguish deck and exterior (two lines). Ladder 5 deployed to assist with overhaul. Dispatched 8:17 p.m., as haz-mat incident involving LP tank on fire.
Callers subsequently reported LP tank gas explosion with deck and structure on fire. Structure fire assignment dispatched and added to response. Haz-Mat 2 and Engine 15 reported column smoke while en route. Working fire assignment dispatched prior to first engine arrival. Controlled 8:52 p.m. Cause determined as accidental, due to malfunctioning LP gas grill. No civilian injuries. One firefighter injured with dislocated shoulder, sustained prior to entering structure.
Units on scene included: E4, E15 (taken with HM2), L5, L7, R1, B1, B2, HM1 (with E2 crew), HM2 (with E15 crew), SR 2 (with E8 crew). Structure fire: E22, E19, E_ (was there a third engine?), L1, R3. Working fire: E9, A1, C10, C20, C40. Other fire: B2. Medical: EMS _, EMS _, EMS 5, EMS 1, T1, D1.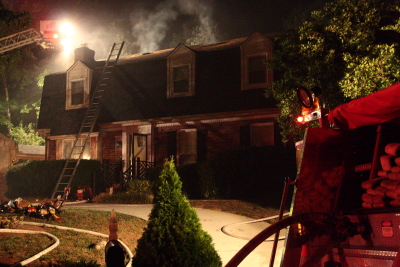 ---
I sent the structure fire assignment once I realized what was going on. I left engine 4 as the first due for the fire and only added two more engines and a ladder for the structure fire response.
Marcus - 08/04/11 - 19:03
You did a great job at ECC Marcus! Thanks for your help dude!!
A.C. Rich - 08/04/11 - 19:21
http://i.imgur.com/GycKc.jpg
Jake - 08/05/11 - 03:26
Love you too Jake
Marcus - 08/05/11 - 15:22