08/06/11 312 W, 1 I - + 4 - 8 Videos of Funeral Procession For Asheville Fire Capt. Jeff Bowen
Here are a pair of videos showing the funeral procession of Asheville Fire Department Capt. Jeffrey Scott Bowen, killed last week at a four-alarm fire at commercial medical office building. The July 28 also critically injured firefighter Jay Bettencourt. The cause of the fire has been since determined as arson. The videos were posted by the YouTube user asheville103. The two videos have a total running time of about 25 minutes. The location of the video is not indicated, but a pair of ladder trucks are poised at the intersection. Capt. Bowen was buried at Biltmore Baptist Church, in Ayden. (Note there are other procession videos on YouTube, slightly incorrectly labeled as "funeral procession." They were filmed the day before, as Bowen's body was transported to the funeral home.)
The first apparatus to appear in the procession is Asheville Engine 1, serving as caisson. The second piece of apparatus to appear is Rescue 3, which was Capt. Bowen's fire company. Looks like the entire Asheville fleet is present, including nine engines, two quints (ladders), two aerial platforms, a medium-duty rescue, and a tanker. Also an Arson unit and an ATF truck, plus numerous small vehicles and light truck-based apparatus.
By casual count, there were at least another 28 engines, 11 ambulances, 9 brush trucks/small rescue trucks/midi pumpers, and one monster rescue truck participating in the procession. Plus too many small vehicles to count! Couldn't read the departments terribly well, however. In addition to the departments that participated in the procession, there were many others providing coverage in the city of Asheville.
Embedding of the videos on other web sites has been disabled, so here are the direct links: watch part one | watch part two. Thanks 103, for taking the time to shoot and share. See other blog postings.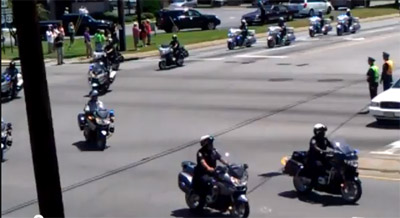 ---
AFD lined up the procession so that the trucks on the first alarm and such were first followed by their other trucks and then departments. I believe the vehicle I saw from the furthest away was Missouri or Alabama
Mike - 08/06/11 - 14:40