08/06/11 213 W, 1 I - + 2 - 1 Mini USB to Micro USB Adapter
Time for a geek report. Today, the subject is cords. Anything electronic involves one or more cords. They come in sizes and shapes and particular purposes. Input, output, power, pointing devices, etc. And they aren't always compatible from hardware to hardware. For example, your current non-Apple smart phone probably has an input jack for a USB mini plug. So you're powering the thing at home and in the car with a variety of adapters and cords. They all have a USB mini plug on the end.
Upgrade your smart phone, and you discover the input jack for power is smaller. Your USB mini plug doesn't fit. Do you run to Best Buy, and buy another round of cords for? Or do you try to find an adapter, something that will take your USB mini plug as input and produce a USB micro plug as output? The latter's the money-saver, although some places price such adapters as high as new cord. That's where eBay's useful. There are quite a few sellers overseas who sell such adapters for a couple bucks each. Shipping time is about 10 days. If you can wait, go cheaper and slower. Bought four of these babies for myself.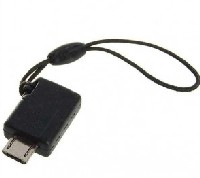 ---
When I got my new phone I bought a bunch of them on Amazon for a few cents each!
Bmac - 08/06/11 - 21:10
I got 2. They started off great, but the connections (on both ends) became loose and either would not hold a good connection with the wire or in the phone. Cheap materials, cheap price – the new marketing theme of the Chinese Empire
Olson - 08/07/11 - 16:08