08/19/11 214 W, 1 I - + 2 - 5 Two Raleigh Firefighters Struck on I-40
At a scene of a vehicle fire this afternoon on Interstate 40-- at the entrance ramp from Hammond Road-- two firefighters from Raleigh Engine 2 were struck as a passenger vehicle entered the scene. The second vehicle struck at least two other vehicles, and injuring three other people. The two firefighters sustained minor injuries, and were transported to WakeMed. Three other civilians were also transported, including one in serious condition.
Engine 2 and Engine 20 were dispatched to the vehicle fire about 4:10 p.m. Engine 20 was still en route at the time of the accident, which occurred about 4:20 p.m. After the reported accident, Engine 1, Engine 3, and Engine 10 were dispatched. Battalion 3, Car 10, and Car 2 also responded. Medical resources included EMS 8, EMS 11, EMS 18, EMS 36, and District 1. Here are scene photos from today by Mike Legeros. We'll add news stories a bit later, as well as any updates as provided.
The accident occurred just a couple hundred feet east of where Engine 1 was struck by a passenger vehicle on January 25, 2011. They were blocking for Engine 2 at an accident scene. No firefighters were injured at that incident, but the driver of the car was transported.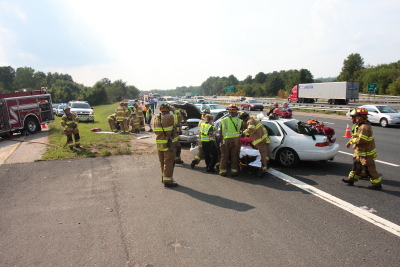 10:46 p.m. update. News links, with minimal reporting:
---
Thank God that our brothers are ok! Hope PD enforcess the move over law to it's fullest ppl need to wake up and pay attention when they see public safety vehicles! be safe!
Jason Lane - 08/19/11 - 23:30
Was very concerned when I heard this call. Very glad our brothers not seriously hurt. A little time and rest and thankfully they will be fine. Thought it interesting (disturbing?) that while the news outlets mentioned this on their websites, not one of them covered it in their evening broadcasts.
TimB (Email) - 08/20/11 - 10:34
WRAL had it as their lead story on the 6:00 p.m. news, but it was only a 15-second mention.
Mrs. Blogger - 08/20/11 - 11:54
Glad to hear everyone made it home safely! As a side note, I saw a picture from Mike's album from The Lake Drive fire and noticed that you, Lt. Lane, had Fire Dex gear on? Is this just gear that you were trying out or does/has RFD ever issued Fire Dex? Not trying to call you out LT but just interested! Stay safe brothers.
Ben Davis - 08/22/11 - 09:33
Ben there is I believe 7 firefighters in the county that are trying out gear through Fire Dex, Globe, and Morning Pride.
911 - 08/22/11 - 17:53
Ben you aint calling me out! 911 is correct there are wear test ginnie pigs 5 from the county and 2 of us from RFD that are wear testing the companies that put in bids for the next round of gear purchasing. We did this back in 06,07 with lion apparal, globe and morning pride. Hope that answers your call out! be safe brother! RFD has never worn fire dex! Now we can shoot this over to the historian mr. blogger on what gear brands has RFD worn. I will try with this, globe, jansville, morning pride, globe, securitex, globe, morning pride. Gear for 500 please Alex!
Jason Lane - 08/22/11 - 20:28
Does Raleigh order the same spec gear that County orders, What about Cary
Scooter - 08/22/11 - 21:45
Scooter did the county departments go with morning pride around 06/07? thats what we went to during last spec orders.
Jason Lane - 08/22/11 - 22:02
Cary has been purchasing the Morning Pride gear that the rest of the county buys with a few changes
shevais - 08/23/11 - 00:10
Wake and Raleigh have used the same spec from the Fire Commission's Wake Co. Equipment Committee since (I believe) 2005. A joint effort for bulk purchasing advantages from the same bid.
A.C. Rich - 08/23/11 - 00:43
Thanks guys, I can sleep now that I know the answer! haha
Ben Davis - 08/23/11 - 09:16