08/24/11 523 W, 1 I - + 6 - 7 Beer, Books, and Big Fires
Bought a new book this week. Beertown Flazes - A Century of Milwaukee Fire Fighting. Published in 1971, written by R. L. Nailen and James S. Haight. Purchased on eBay. This one's an old school-style history book. Hardcover, heavy on text, light with photos, and a double dozen appendix pages. No personnel portraits, no yearbook layout. Nary any color pictures. I've lately collected a few of these, and have found them an appealing alternative to the glossy products of our current, digital-publishing age.1
Sitting on my shelf are older volumes from Washington, DC (1971), York, PA (1976), Detroit (1977), and Minneapolis (1979). The last one, written by the late, great Richard Heath, has inspired a number of my approaches to recording and presenting history. And can't forget those two great books out of Baltimore: The Unheralded Heroes of Baltimore's Big Blazes by William A. Murray (1995 reprint of 1968 book, plus two supplements), and The Rigs of the Unheralded Heroes by William F. Snyder and William A. Murray (1971).
Will Adventure Boy ever visit Milwaukee, and commence digging about for old engine houses? Who knows. But the book can still be enjoyed, both for its content and its presentation. Particularly neat is an appendix on the city's biggest fires. The authors have listed the top 100 conflagrations, dating to the Blatz Brewing Company fire of 1873. Here's their introduction to that section:
"As we said earlier in this book, the definition of a "big" or "bad" fire is up to you. Many old-timers remember for a lifetime a blaze where they almost "got it," which nevertheless made no headlines. You have to look at total loss, size of firefighting force, causalities, firefighting problems, and threat to other property.

"Taking those things into account, we came up with out list of the 100 top fires in Milwaukee during the past century. If your favorite didn't make the list, don't be insulted--there just wasn't room for every contender."
Neat concept, listing a century's worth of top fires. And a hundred of them, no less! What would Raleigh's top 100 list look like? We've blogged about that subject before, about assessing our biggest blazes. Has Raleigh even had 100 really big, real corker of a fire, barn-burning multi-alarm fires? Certainly not in comparison to many of the older and denser cities in the United States.
Heck, the same applies statewide. Our biggest cities are still comparatively young and smaller sized, and even alongside some of the older cities in the south. Our urban centers have never been burning, not with the historical ferocity seen elsewhere. So maybe a Top 75 or Top 50 list is a better choice, for ranking some of the biggest ones in our city's history. Memo to self: Work on that some time.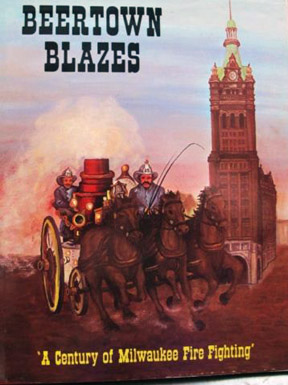 1To the best of my knowledge, there are no full-text histories of North Carolina fire departments. Most of the commemorative volumes have been yearbook-style. Most with historical sections, mind you. A few departments have more recently produced glossier and more artistically designed books: Raleigh, Charlotte, and Greensboro come to mind.
---