09/12/11 95 W, 1 I - + 6 - 2 Preparing For Entry
Members of the Raleigh Fire Department hazardous materials team are pictured preparing for entry into a commercial building on Ice Drive, scene of an ammonia leak early yesterday evening. Those are fully encapsulated chemical entry suits, used for two teams of two firefighters each. Units on scene included E23, L7, R3, SR2 (recon unit staffed by E8), SR3 (decon unit staffed by L5), HM1 (staffed by E2), HM2 (staffed by E15), B4, B1, C10, EMS 34, EMS 35, M95, and D4.
See more photos from the incident
.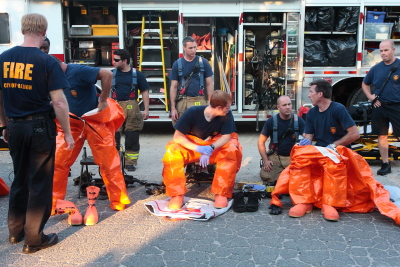 ---