09/16/11 130 W, 2 I - + 5 - 5 CANCELLED - Durham Highway Public Safety Day, Saturday, September 17
Friday, September 16 update. This event has been cancelled, due to the latest forecast from multiple weather sources. Durham Highway Fire Department expresses their sincere thanks to all agencies involved, and looks forward to their participation next year.
On Saturday, September 17, Durham Highway Fire Department sponsors their 16th Annual Public Safety Day. The location is Leesville Road High School, 8409 Leesville Road, Raleigh. The time is 10:00 a.m. to 3:00 p.m. Pumpers and rescues and police cars, oh my! Bunch of your favorite fire departments, plus other agencies. Demonstrations including an air ambulance, a vehicle extrication, and live firefighting. And free hot dogs and pop, at that! Here's a PDF-format flyer
. Hope to see you there.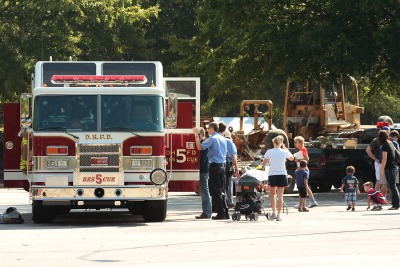 ---