09/19/11 131 W, 1 I - + 7 - 6 Yesterday's Ambulance Accident / Fayetteville Road
WTVD has posted a short story on the yesterday's ambulance accident in the 7400 block of Fayetteville Road, south of Garner. Wake County EMS paramedic ambulance EMS 17 EMS 14 was traveling southbound, returning from a hospital, and swerved to avoid a second vehicle swerving in and out of traffic. The EMS unit left the roadway, struck a ditch, and turned on its side. The second vehicle didn't stop, and left the scene.
The two EMS members aboard were transported to WakeMed with minor injuries. Units on scene included Fairview E2, R1, C2, Garner R1, EMS 11, EMS 16, D1, D2, Chief 200. See photos from Mike Legeros (me), who arrived approximately 35 minutes after the accident, about 11:30 a.m. Glad the medics will be okay.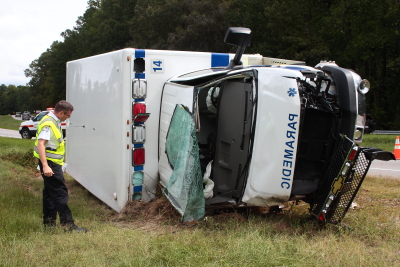 ---
glad the EMT's are going to be okay. seeing as how the chassis is totaled, is the box remountable or is the entire ambulance junk now.
charlie - 09/19/11 - 21:07
It was EMS 14 that was involved in the accident….not 17.
Number on truck - 09/19/11 - 22:32
Thanks for the correction. Blind and oblivious.
Legeros - 09/19/11 - 22:37
glad everyone is okay
ncems (Email) - 09/20/11 - 01:09
@Charlie – I would surmise the whole thing is scrap. With the damage the chassis itself took, it would likely have sprung the body. Anyone want some barely-used red and amber lights? I'm sure you could get them cheap! Glad everyone's ok. I would probably have called a Trauma Protocol had I rolled up on that.
Duda (Email) - 09/20/11 - 09:41