12/19/11 166 W, 1 I - + 2 - 2 Scotts Hill Fire Department Cookbook
Here's something interesting found for sale on eBay, a coil-bound cookbook published in 1991 by the Scotts Hill Fire Department north of Wilmington in Pender County. The 76-page document was likely created a fundraiser. Search eBay and you'll see similar documents from around the country. How many cookbooks have been created and sold around here? That's a good question! The Morrisville Fire Department produced one in 1975.1 Readers might recall others. As for the Scotts Hill Fire Department and which we've blogged about before, they operated from 1977 to 1992. Probably didn't operate horse-drawn equipment, however. Will check on that! Read about more former fire departments in North Carolina.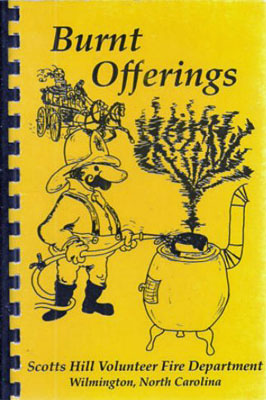 1Recipes included Mildred Howard's "Congealed Salad," Hilda F. Carpenter's "Persimmon Pudding," Onnie Riggsbee's "Cola Cake," Mary Frances Ferrell's "Mayonnaise Biscuits," Gayle Mills' "Hamburger Goulash," Mary Hill's "Porcupine Meat Balls," and Cleo Meachum's "Corned Beef Casserole."
---