02/02/12 276 W, 2 I - + 10 - 3 When Raleigh's Macks Had Hard Suction Hoses
Were Raleigh's Mack's delivered with hard suction hoses? That was the question posed by a reader and reprinted in yesterday's reader mail posting. First photo search, on this apparatus registry site, found nothing. Well, beyond a couple of the early Macks with nothing hanging pump side, which is where Mr. Blogger remembers the hard hoses being mounted. Second photo search was more successful, and a couple are shown below as located on www.raleighfirehistory.org.
Asking around, the story is something like this. The Mack CF pumpers, first delivered in 1970, were equipped with hard suction hoses. Were they delivered that way? Unsure. Maybe the first couple year's worth, or maybe that hard hose was from the retired/reserve American LaFrance engines? Some remember the Macks delivered with ladders on each side. Some pictures from that era (such as these shots from Public Affairs) seem to show just that.1
The two 1970 Macks were first assigned to Engine 1 and Engine 15 (also at Station 1). The top picture probably shows one of them along with Truck 1, in a photo from 1977 or later. Then the city received a 1971 Mack, and then two sets of four of model years 1973 and 1975. By that time, perhaps they determined that more ladders were better than presumably seldom-used suction hose? We'll see what other memories manifest themselves.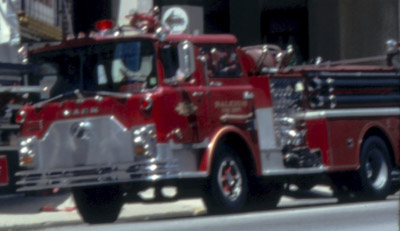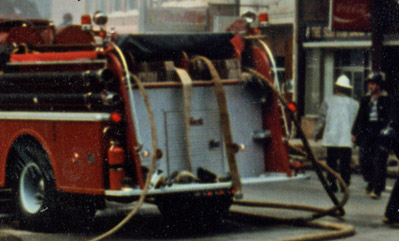 1Alas, I am at a great disadvantage here. Didn't move to Raleigh until 1983, didn't start chasing fire engines until the end of college in 1988, and didn't join the Raleigh Fire Department until 1989. Thus, no personal memories of deliveries here!
---
Why does the RFD no longer carry hard suction? Seems like a necessary thing to have…..I mean if FDNY has it then the city likely should have it as well
Latte - 02/02/12 - 11:15
When would Raleigh fire use hard-suction hose?
Rescue Ranger - 02/02/12 - 21:21
The first pumping engine, a 1914 American LaFrance Type 12 triple combination, was equipped with a pair of hard suctions, as shown in a photo from around 1920: http://legeros.com/ralwake/raleigh/appar... Don't know if it was delivered with same, but probably.
Legeros - 02/02/12 - 21:24
When? If the water system ever failed. Look at FDNY following 9/11. The water system was ruined and they had fires burning in the rubble. As a result they used the suction they have on their engines to pump from the rivers. Raleigh might be good but they are not perfect and God forbid something ever happened the hard suction would be a fall back and Im sure the tax payers in the city would appreciate knowing that there is a fall back in case the system breaks. Kind of like the city not having a single tanker….
latte - 02/03/12 - 01:45
The fall back system is all of the pumper/tankers the county departments have along with their drop tanks. They could deliver quite a bit of water to Raleigh in short order … and suck it out of lakes or swimming pools if necessary.
Dave - 02/03/12 - 06:52
Rescue Ranger, ha! I misread your post as "When would Raleigh FIRST use hard-suction hose?" Figured it was a typo. Talk about historian bias!

Latte/Dave, there's an interesting risk management discussion to be had there. Wonder how other comparable cities (southern or otherwise) plot their risk for water system failure? We are well-positioned to utilize county resources, in the proverbial pinch.
Legeros - 02/03/12 - 08:11
Dave-Fair enough, but what happens when they are swamped because if it hits the fan then chances are they will be just as busy and by the time they can get there who knows how many more people will be injured or property lost. Realistically the City of Raleigh could benefit from several tankers placed throughout the city. Charlotte has several tankers in their fleet and areas such as New Hanover County which has developed a county fire department has tankers spread throughout. Wake County could also benefit from a SINGLE county fire department such as New Hanover or Prince Georges. It would make logistics, training, and equipment much easier to manage, realistically though the chances of that happening are slim to none because of pointless politics. We are in the business of helping not bickering.
latte - 02/03/12 - 11:53
Latte, point taken but I believe if it hits the fan that hard no amount of tankers in the city would help mitigate things. Several tankers around the city would be of only minor help in the event of a major water system failure. Their travel times to refill would negate them being of any use IMO. As for a single county department, as much as I hate to say it, you're spot on (both on it being a good idea and the chances of it being between zero and none).
Dave - 02/04/12 - 08:33