02/09/12 208 W, 1 I - + 9 - 3 Historical Society Changing Name to Raleigh Fire Museum
Hear ye! Hear ye! This month, in the year of our anniversary twenty-twelve, the Raleigh Fire Department Historical Society is changing its name to the Raleigh Fire Museum. What's the scoop? Let's start with the backstory...
The historical society was created in the fall of 2008, and was incorporated with the state in the spring of 2010. Later that year, federal tax-exempt status was granted. Given this growing history, we have not entered into the name change lightly.
First and foremost, the new name will help eliminate confusion between our private 501(c)(3) charitable organization and the City of Raleigh fire department. This is an important distinction to draw for fundraising and with regard to donations.
Additionally, the name is a better brand and is more representative of our goals. Though we've opened and are operating the first incarnation of the Raleigh Fire Museum, our long-term goal is a larger, permanent facility.
Stay tuned for more, from monthly museum openings to special events for our centennial year this year. Thanks for your support, and hollar if you have any questions. Visit www.raleighfirehistory.org for contact information, to learn more, or make a donation.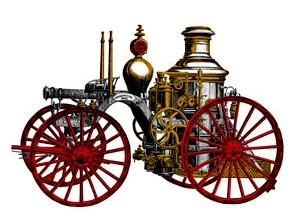 ---