02/19/12 259 W, 1 I - + 10 - 4 Last Night's House Fire on New Bern Avenue
Here's your morning action shot, from last night's house fire at 905 New Bern Avenue. Dispatched as working house fire at the intersection of New Bern and Idlewild Avenue. Police reporting subjects possibly still in structure. Engine 3 arriving at a two-story wood-frame structure with 2,178 square-feet. Built 1925, with additions and remodeling in 2003. Basement space. Three family dwelling, per tax records. Engine 3 into structure, supplied by hydrant from South State Street (?). Didn't catch (ha!) who caught or supplied, maybe Engine 1.
Interior crews removed after about 10 minutes, with heavy fire conditions in the structure. Defensive operations started. Picture below shows streams from portable monitors on left and right of structure, protecting exposures. Aerial stream from Ladder 4, from second hydrant caught at Cooke Street (?), with Engine 5 boosting pressure. Two additional engines special called. Medic unit special called, to help evaluate multiple patients.
New Bern Avenue closed during incident. along with several side streets. Dispatched at 7:21 p.m. Controlled in about an hour. Three adults and two children escaped through back window, assisted by police officer. Another adult also escaped. Five people treated for smoke inhalation by EMS. Cause under investigation. Units on scene included E3, E1, E7, E5, L4, R2, B2, B3, A1, C10, C20, C40, E6, E2, EMS11, EMS 7, EMS 31, M94, D1, T1. Was the second structure fire for many of the units, which had cleared an outbuilding fire on Brighton Road less than an hour before. News reports: WRAL, WTVD, NBC17. See preliminary photos by Mike Legeros.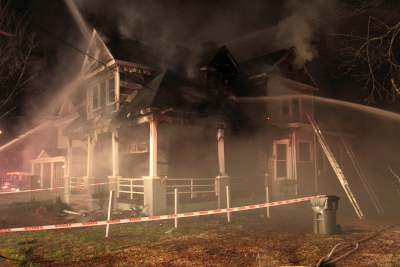 ---
Add in EMS7, EMS31, and Medic 94.
DJ - 02/20/12 - 12:42